Our team members provide service panel upgrade services for customers located throughout Greenville.
The service panel in any residential or commercial structure is a major component of the electrical system, which provides power to the other areas of the building. It may also be referred to as a distribution board, breaker panel, or electrical panel. In older buildings, the service panel may not be able to handle the electrical needs of those within the space. The need for electricity has continued to increase over the past few decades, as devices and gadgets have become much more commonplace. Between your electronic devices, light fixtures, and appliances, you need an electrical service panel and system that can handle the load without creating a hazardous situation.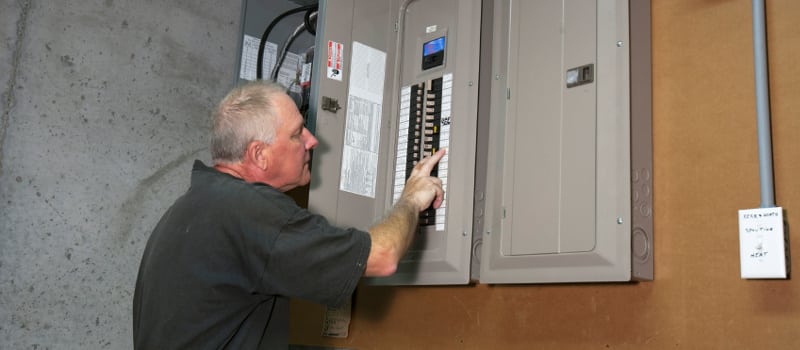 When your service panel can't keep up, you could notice some warning signs. These include breakers that constantly trip due to overloaded circuits, burning odors near the panel, mild shocks when touching any part of the electrical system, and light fixtures that flicker often or feel hot to the touch. Any of these warning signs is cause for concern, but burning odors and hot fixtures are especially worrisome. If you notice these issues happening in your space, give us a call at Quality Electrical Contractors. Our electricians will figure out what's causing the problem and whether a service panel upgrade will fix it.
3 Signs You Need a Service Panel Upgrade ASAP.
Even if you have a newer house, you might find that your needs for electricity exceed the abilities of your panel. The same is true for commercial construction. If your service panel is overloaded, you will start to experience issues that might be not only troublesome, but dangerous. Here at Quality Electrical Contractors, we want to help you get the electrical panel that will suit your home or business with our service panel upgrades. There are a few different ways to determine if you need a service panel upgrade, and some are more pressing than others. Consider the following warning signs that you should address as soon as possible:
Melted Wires or Insulation. Electrical wires come with a plastic or rubber sheathing that keeps them from accidentally making contact with other things that might conduct electricity. If either the wires appear to be fusing or the insulation is melting, then you have an issue that needs addressing as soon as possible.
A Burning Smell from Your Outlets or Breaker Box. Electrical wires can arc or overheat when they are overloaded, which can cause them to burn and emit a burning smell from outlets or the breaker box. These very real fire risks are a problem that needs to be looked at by professionals.
Frequent Blown Fuses or Breaker Tripping. A red flag that a service panel upgrade is needed is when you are frequently blowing fuses or dealing with a tripping breaker. This simply means that you are requiring more electricity than your system can give without being overloaded and requires a service panel upgrade in order to resolve the issue.
If you see these or other signs that worry you, please give us a call here at Quality Electrical Contractors today to learn more about service panel upgrades for your home or business.
The process of service panel upgrade should always be handled by a skilled and qualified electrician. Even a small mistake in the wiring or installation could put the entire building at risk. Our team members provide service panel upgrade services for customers located throughout Greenville, South Carolina, so don't hesitate to contact us today.
FAQs About Service Panel Upgrades
At Quality Electrical Contractors, we are finding that many homes and businesses in the Greenville, South Carolina area are finding themselves needing a service panel upgrade these days. Even though many of today's appliances and electronics are more energy efficient than ever before, we tend to have more of them than we used to. The American lifestyle, in general, has shifted to where it is common to have several televisions, computers, and even extra refrigerators or freezers. A home office is also more common. If you find that you need more circuits, but your current service panel doesn't have any more space, a service panel upgrade is needed. Here are a few common questions that we get related to a service panel upgrade.
Does this mean I need a larger service panel?
Sometimes it is a matter of switching out a smaller panel for a larger one. However, there are also situations where a service panel upgrade involves adding a secondary service panel. This extra service panel is most commonly installed next to the existing one, but it can be placed elsewhere as a subpanel. Also, keep in mind that if your current service panel isn't in the greatest shape, we will recommend replacing it.
Can you do the service panel upgrade to allow more circuits later?
Absolutely! The idea behind a service panel upgrade is to give you plenty of space to meet your future power needs. We can also take care of putting in some additional circuits for you to resolve any that are currently handling more than they should be.
How long will it take to do the service panel upgrade?
Each project is different in that regard. We are also at the mercy of the utility company in situations where they need to disconnect the power and then reconnect it, and we also have to allow time for any final inspections to be performed.
---
At Quality Electrical Contractors, we perform service panel upgrades in the Greater Greenville, South Carolina area and the upstate of South Carolina from the Anderson and Seneca/Clemson area through Easley, Piedmont, Pickens, Powdersville, Williamston, Taylors, Greer, Mauldin, Simpsonville, Fountain Inn, Woodruff, Travelers Rest, Spartanburg, Duncan, Lyman, etc., as well as the Asheville, North Carolina area.