We offer a variety of services to help you achieve your outdoor lighting goals in Greenville.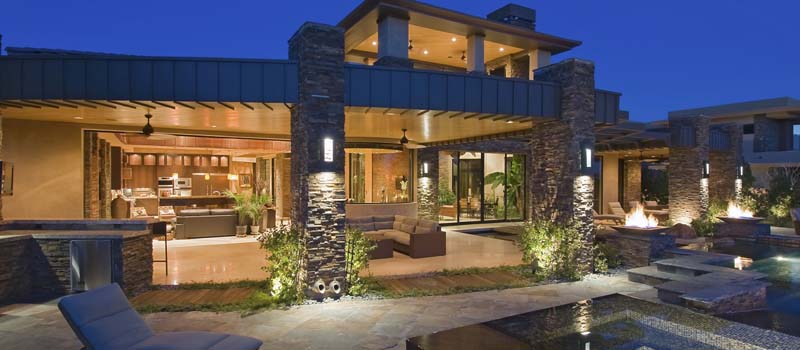 At Quality Electrical Contractors, we believe that proper outdoor lighting can make all the difference in your outdoor space in Greenville, South Carolina. Not only does it ensure that you have safe walkways and seating areas, but you may also enjoy the mood that is set as you spend time relaxing or entertaining guests. We offer a variety of services to help you achieve your outdoor lighting goals, including:
Landscape Lighting – Highlighting your beautiful gardens and creating a pathway through your outdoor spaces is just one of the ways in which outdoor lighting can help you create the ideal outdoor space. Whether you need an update to your current landscape lighting or you want to install a new system, we have the solutions you are looking for.
Pool Lights – Having the proper swimming pool lighting is an essential part of being a responsible pool owner. We can help with the installation and repair of this important safety feature, so your pool is always safe to use.
Deck Lighting – Your deck can be an important place for relaxing and for entertaining, but also a place that's frustrating to light well without the right outdoor lighting. We can help you determine which kind of outdoor lighting will provide the best options and complete installation, leaving your deck equipped for all purposes throughout the year.
Security Lighting- Flood lights can be installed with or without a motion sensor. They can also be connected to a timer, which can be set to come on at various times in lieu of a traditional switch.
You can rely on us at Quality Electrical Contractors for quality outdoor lighting solutions because we have been transforming power into light for over 40 years. Contact us today to discuss your goals and to schedule a consultation.
---
At Quality Electrical Contractors, we offer outdoor lighting services in the Greater Greenville, South Carolina area and the upstate of South Carolina from the Anderson and Seneca/Clemson area through Easley, Piedmont, Pickens, Powdersville, Williamston, Taylors, Greer, Mauldin, Simpsonville, Fountain Inn, Woodruff, Travelers Rest, Spartanburg, Duncan, Lyman, etc., as well as the Asheville, North Carolina area.