Our electrical contractors are known throughout the Greenville area for their reliability, professionalism, and trustworthiness.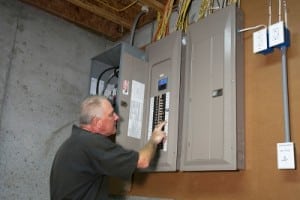 Electrical Contractors in Greenville – There's no shortage of electrical contractors here in Greenville, South Carolina and the upstate of South Carolina, so how do you pick one when your home or business needs some electrical work done? While you may have plenty of electrical contractors to pick from, there are a few key reasons why you should leave things up to us at Quality Electrical Contractors.
First, our electrical contractors have experience to back their skills up. We've been around since 1972 and have become the contractors homes or businesses turn to whenever they need help with their property's electrical system.
Second, we take pride in the fact that we're professional, reliable, and honest. We strongly believe that you should be able to trust your electrician and will do everything in our power to form a beneficial relationship with you. Just ask any of our long-term clients, and they'll tell you that they're glad they never went with another electrical company.
Finally, we can meet all of your home or business' electrical needs. Whether you need someone to install wiring in your business or you're having trouble with a faulty light switch in your home, you can rest easy knowing that we're up for the job.
At Quality Electrical Contractors, we're here to make your home or business safe and beautiful. Reach out to us today to find out more about who we are, what we do, and what sets our electrical services apart.
---
At Quality Electrical Contractors, our electrical contractors proudly serve the Greater Greenville, South Carolina area and the upstate of South Carolina from the Anderson and Seneca/Clemson area through Easley, Piedmont, Pickens, Powdersville, Williamston, Taylors, Greer, Mauldin, Simpsonville, Fountain Inn, Woodruff, Travelers Rest, Spartanburg, Duncan, Lyman, etc., as well as the Asheville, North Carolina area.