Electrical panels are the safety sentry for your Greenville home, so let us make sure they are working correctly.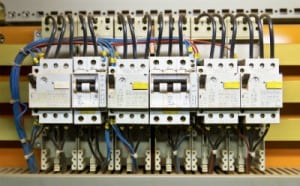 Electrical Panels in Greenville – Other than the occasionally tripped circuit breaker, you probably do not have much cause to visit the electrical panel in your Greenville, South Carolina home. However, if you are finding your visits to be happening a bit more often than you would like, it might be because you are overtaxing your electrical system in some areas of your home. This is not as uncommon as you might think. At Quality Electrical Contractors, we are seeing this situation more often because power needs have increased in recent years.
The addition of home theater systems, home offices with computers and various other machines, televisions and stereo systems in most rooms, and more devices to be charged than in the past have all increased the amount of power needed. Tripping circuit breakers is a sign that certain circuits are unable to handle the power required of them. When this happens, it is important to make some changes to the electrical panels, either by adding more circuits, upgrading the wiring, or even adding an additional panel.
It is important to have your electrical panels checked out if you are tripping circuit breakers often. It is not just inconvenient to deal with heading to the panel often, but it can also be dangerous. Circuit breakers are tripped to avoid an electrical fire, but after being overloaded numerous times, they can be less reliable.
In addition to checking out electrical panels, our services also entail changing an old fuse box system to new circuit breaker electrical panels. This is a wise upgrade, as they are safer and add value to your home, which is important, should you wish to sell it one day. Feel free to give us a call with any questions you may have about electrical panels or to schedule an appointment to have your home checked for potential overload problems.
---
At Quality Electrical Contractors, we offer services for electrical panels in the Greater Greenville, South Carolina area and the upstate of South Carolina from the Anderson and Seneca/Clemson area through Easley, Piedmont, Pickens, Powdersville, Williamston, Taylors, Greer, Mauldin, Simpsonville, Fountain Inn, Woodruff, Travelers Rest, Spartanburg, Duncan, Lyman, etc., as well as the Asheville, North Carolina area.