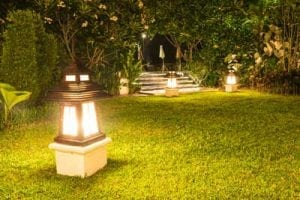 Are you completing landscaping work at your home or business and you'd like to make the finishing touches more enjoyable with landscape lighting? Are you looking for ways to illuminate your yard and walkways after dark with subtle but effective outdoor lighting solutions? While it may be tempting to try to install landscape lighting on your own, there are a few reasons you may find that hiring an electrician to install your landscape lighting produces the best results.
Proper Installation – Even though you are installing lights outside, you still should have proper installation that won't overload the electrical system at your home or business. A professional will be able to ensure that your lighting works well and won't cause electrical problems during your daily routine.
Check Your Connections – Another great reason to have an electrician assist with landscape lighting is that you'll want to make sure your outdoor connections are safe and secure. Whether you need a new outdoor outlet installed or a dedicated circuit added to your electrical panel, you'll get the best results with a professional electrician.
Efficient Lighting – While landscape lighting can add a certain ambiance to your home or business, what you want to avoid is having your electricity bill skyrocket overnight. You can always talk with an electrician about the most efficient outdoor lighting for your space so you get optimal results.
Beautiful Outcome – Landscape lighting is a wonderful addition to any outdoor space. Having a professional electrician assist you with the process will ensure that you are satisfied and achieve your goals for safe, secure, beautiful landscaping features.
 If you are ready to install landscape lighting and would like help from an electrician, contact us at Quality Electrical Contractors today to schedule an appointment. We look forward to working with you!