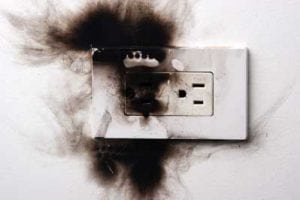 There are many joys that come with home ownership, but there are also some responsibilities. Sometimes the things hidden within the walls can be the most difficult to diagnose and repair. However, when it comes to your electrical systems, you should always be aware of the state of your home's wiring and be on the lookout for signs that house rewiring may be your next big project. Here are a few things to look out for:
Charred Outlets – Charred outlets and switches are indicators that your electrical system has been overloaded one or more times, causing a complete meltdown at these locations. If you have this problem in one or more rooms, house rewiring will help to resolve the issue and provide an improved electrical system for your home.
Burnt Smell – Do you smell burning in your home, but you aren't entirely sure of the source? This could indicate a serious wiring issue inside the walls, and you should call for a professional quickly. You'll also want to turn off the circuit on your panel to ensure safety.
Aluminum Wiring – Aluminum wiring is common in many older homes, but it also poses a serious fire threat. House rewiring should be at the top of your priority list if you see the letters "AL" written on your wiring jacket.
Frequent Tripped Breakers – If you are constantly battling tripped breakers, this means you may not have an electrical panel equipped to handle the electricity you need. Tripped breakers can be caused by a number of things from appliance overload to faulty wiring. If this is a persistent problem, a whole-home electrical update could be your best bet.
The age of your property is the number one factor in faulty or outdated electrical systems, and scheduling house rewiring is a must if you can't remember the last time you had an inspection or you recently bought an older home. Furthermore, if you are planning any other updates to your home, like a kitchen remodel, you may want to schedule both projects at once so you have less stress.
Contact us at Quality Electrical Contractors today to learn more about house rewiring or to schedule your electrical installation services.