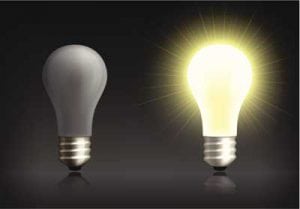 Have you ever wondered if you would know when your house has an electrical problem? Have you been dealing with electrical issues for years, but you never thought to get them checked out? When it comes to your home, having the modern convenience of a working electrical system is pretty important, and you should know the warning signs of common electrical problems that may require professional help.
Burnouts – Do you have that one light bulb that keeps burning out even though you don't use it that often? Rather than racking up hundreds of dollars in new light bulbs, this may be a case of a faulty connection or a short in your electrical wiring that needs a professional fix.
Flickering/Dimming – Have you noticed that your lights flicker and/or dim regularly, and you aren't sure of the cause? Unfortunately, this type of electrical problem can be potentially dangerous and should be addressed right away. This is an indicator you may have a poor circuit connection.
Dead Outlets – If you have outlets that you can't use, then you should consider the cause of this type of electrical problem. Whether you have melted wiring or an electrical connection is shorted, having  a professional on hand to make sure your wiring is safe and secure will also help you get your outlets operating efficiently again.
Warm to the Touch – When you touch your light switches or fixtures and they are warm to the touch, even if they aren't on, you have an urgent issue. This is an electrical problem that requires immediate attention.
Tripped Breakers – It is one thing for a breaker to trip on your electrical panel during a storm, and it's another thing to constantly battle your electrical panel for electricity. Breakers that trip consistently indicate that your system may be on overload or your circuits are drawing too much power. Make sure to have a professional check your entire electrical system when you experience this common electrical problem.
 At Quality Electrical Contractors, we want to make your home safe and beautiful, and we are equipped to assist with a variety of household electrical problems. Contact us today to schedule service.